MMA Before the UFC?
The best kept secret in mma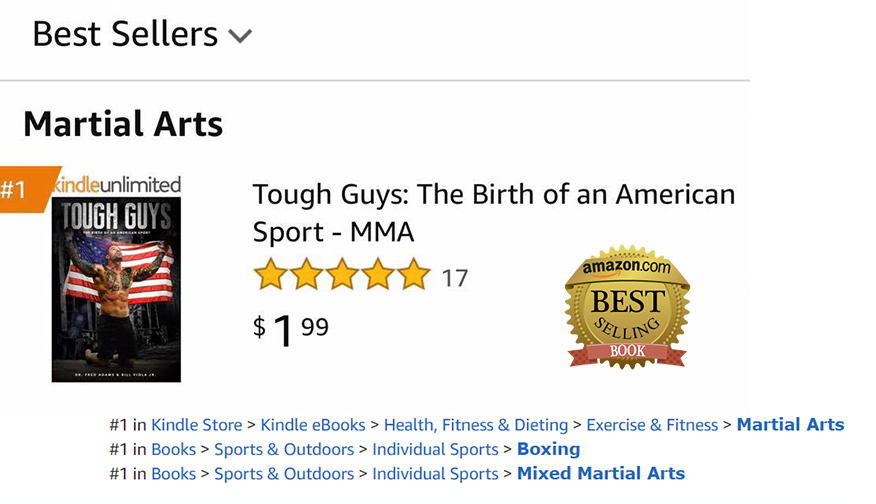 What do an NFL star, a United States Secret Service Agent, Sylvester Stallone's bodyguard, and Muhammad Ali's sparring partner all have in common?  They were all characters cast in America's original "anything goes" reality fighting drama, an "open call" that led to the birth of a new sport—MMA.
Long before the Octagon was in vogue or Royce Gracie made his pay-per-view debut; decades before the UFC became a household brand and while the likes of Dana White were still in elementary school; two martial artists, Bill Viola and Frank Caliguri, set out to prove once and for all who the world's greatest fighter was by creating a radical new "sport" in 1979.
Godfathers of MMA reveals the clandestine plot to subvert the "first" mixed martial arts revolution in American history, one poised to challenge boxing as the king of combat sports.  Confounded by a freak accident (death in the ring) and widespread corruption, a massive struggle ensued over money, power, and respect between boxing's gentry and an upstart MMA company from Pittsburgh, Pennsylvania.  CV (Caliguri and Viola) Productions ignited a bitter turf war with the Pennsylvania State Athletic Commission that sparked a spectacular David and Goliath battle for leverage.
The legendary story, buried by rhetoric for years, casts a wide net reeling in everyone from politicians to mobsters, all with ulterior motives; all with eyes on a billion dollar blueprint. From boxing's "Holy Territory," the home of Rocky Balboa, to a bizarre connection with the Supreme Court that lead to the first legal precedent for MMA—ever, this is the ultimate inside look.
Godfathers of MMA is a testosterone-laced whirlwind tale of "what might have been" told by the trailblazers who fought for it.  Relive the epic adventure of the "Tough Guys" later known as Super Fighters (the first mixed martial arts league in history).
Thirty years before the UFC gained a mainstream audience; the media embraced mixed martial arts: KDKA-TV dubbed CV's new sport, "Organized, Legalized, Street fighting," while the Philadelphia Journal proclaimed, "No holds barred as Superfighters take over."
Take a journey back in time to the "Iron City" and meet the fighters, the foes, and the visionaries who created the modern sport of MMA.
About The Authors
Dr. Fred Adams is a western Pennsylvania native who has enjoyed lifelong love affair with literature and film.  He holds a Ph.D. in American Literature from Duquesne University and recently retired from in the English Department of Penn State University.  He has published over 50 short stories in amateur and professional magazines as well as hundreds of news features as a staff writer and sportswriter for the now Pittsburgh Tribune-Review.
In the 1970s Fred published the fanzine Spoor and its companion The Spoor Anthology.  In 2014 his novels, Hitwolf, and Six Gun Terrors were published by Airship 27, and his nonfiction book, Edith Wharton's American Gothic: Gods, Ghosts, and Vampires was accepted for publication by Borgo Press.  Three additional novels by Adams are currently pending publication.
Adams acted as the official press agent for CV Productions Inc., the first mixed martial arts company in America (1979-1983).  He sat ringside covering the radical new sport for the media and is credited with coining the phrase, "The Real Thing in the Ring."
Fred is also an accomplished singer/songwriter who has performed solo and with bands since the early 1960s and over the last few years has recorded two compilations of original material, The Doctor is In and Searching for a Vein.
Bill Viola Jr. is a Pittsburgh, Pennsylvania based promoter and international martial arts champion who experienced the "Golden Era" of MMA firsthand as his father, Bill Sr., is credited as the co-creator of the sport.
Bill graduated Summa Cum Laude from the University of Pittsburgh in 1999 with a bachelor's degree in Political Science and immediately moved to Hollywood, California to gain hands-on experience in the entertainment industry.  Subsequently, he earned acceptance into the Screen Actors Guild (SAG) and American Federation of Television and Radio (AFTRA) en route to establishing his own production company, Kumite Classic Entertainment in 1999.
He established Kumite Quarterly magazine in 2003, serving as publisher and overseeing distribution throughout North America until 2007.  Viola is an accomplished freelance journalist, contracted by Sport Karate Magazine to cover the National Black Belt League World Games on location in Mexico, Canada, and across the United States.
Viola has also served as an independent consultant for number major motion pictures including the mixed martial arts movie Warrior (2011).  He is also credited as an Associate Producer for the MMA inspired film Tapped Out (2014) starring former UFC champions Lyoto Machida and Anderson "Spider" Silva.
Bill teaches martial arts at the same school his father established in 1969 (Allegheny Shotokan). He is part of a growing Pittsburgh karate legacy that that now includes his daughter, Gabriella Capri Viola.
More info www.godfathersofmma.com
http://godfathersofmma.com/trending/