Yinzers Invented MMA
Yoi and double yoi.  You heard that right… Two Parmanti eatin' terrible towel waving  "Yinzers" from Western Pennsylvania are credited with creating a new sport [MMA] over 14 years before the UFC. These weren't your average yinzers though, they set sights on a "billion dollar" prize and would have won if it wasn't for Commonwealth outlawing the sport with the passage of the Tough Guy Law in 1983.  Who knew??  Fascinating story of what if, but #Pittsburgh is documented as the birthplace of MMA. BURGH PROUD!  Read the book or Watch the Showtime Documentary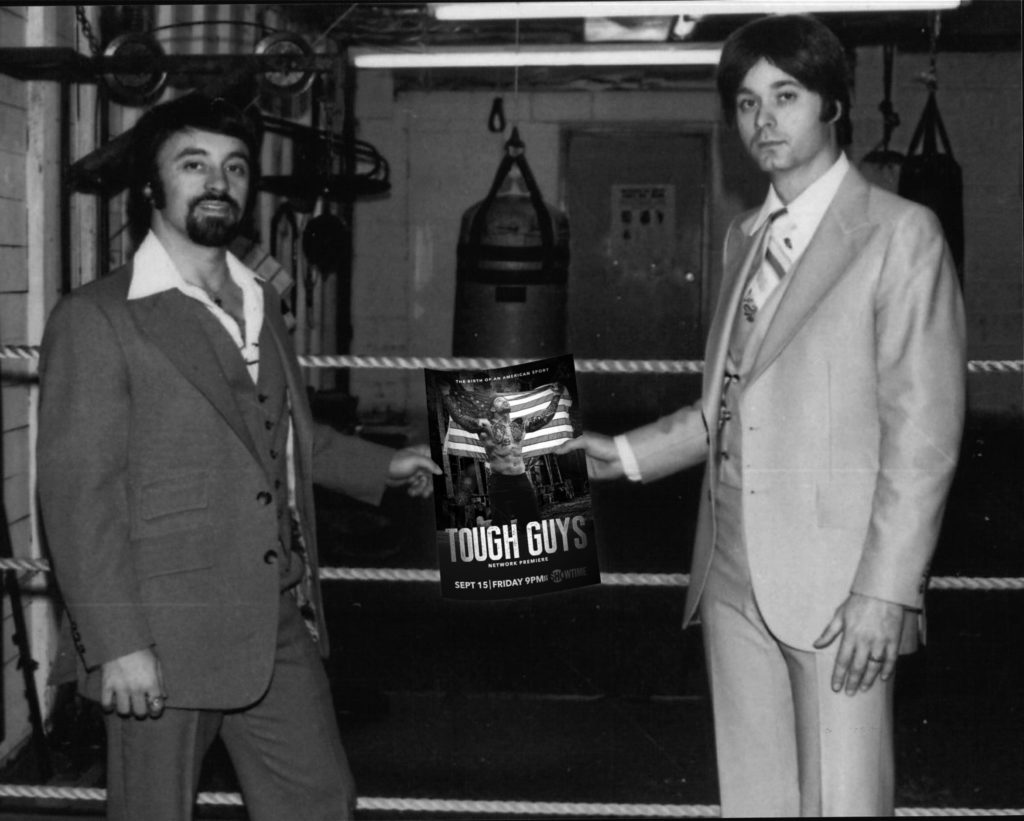 Courtney of Pittsburgh Tribune Review:
Tough Guys traces MMA's roots right back to Western Pennsylvania
This is the real story.
Two guys from Western Pennsylvania — Bill Viola Sr. and Frank Caliguiri — created the sport of mixed martial arts, now a billion-dollar business, years before it became a household name.
That tale has been documented by Bill Viola Jr. in the book "Godfathers of MMA," which he co-authored with his cousin Fred Adams. The local connection to this sport will receive even more exposure in the documentary "Tough Guys," which airs at 9 p.m. Sept. 15 on Showtime. The network broadcast premiere of the film will be shown at a free event Sept. 15 at the Palace Theater in Greensburg. Seating is on a first-come, first-served basis
Viola Jr., 40, from North Huntingdon — who operates Viola Karate the same dojo his father founded in 1969 (then known as Allegheny Shotokan) — served as producer of "Tough Guys," which features the origins of the MMA fighting phenomenon. The movie premiered June 15 at the AFI DOCS Film Festival in Washington, D.C.
The reason the younger Viola decided to write about his father and Caliguiri was because MMA was getting more popular and he didn't want the true story to be lost.
Viola Sr., 69, a Brownsville native who lives in North Huntingdon, and Caliguiri, 68, from New Kensington, met through karate and have been friends a long time, Viola Jr. says. They are proud of what they started long ago.
"It's surreal to have this journey played out on television," says Viola Sr. "We created a new sport, and even if we don't have the reins anymore, I'm proud of how popular MMA is today."
Here's how the story goes, Viola Jr. says.
His dad and business partner Caliguiri were successful in martial artists and promoted karate and kickboxing. They came up with the idea of a mixed martial arts event. They developed an even playing field where the guys could "settle the score," so to speak, via a competition called Tough Guys. At one point, they held a finals match in the former Stanley Theater in Pittsburgh.
"It just took off," Viola Jr. says. "It was something no one had seen before, and it was fresh and exciting — a sport that had never been done before. They gained so much attention but got an enemy in boxing, which was struggling."
As this mixed martial arts was on the upswing, the State Athletic Commission, which oversaw boxing, stepped in and ended the competitions. After a man was killed in Johnstown — in an event not sponsored by Tough Guys, but with a similar name — it was outlawed, Viola Jr. says.
In 2009, the ban was lifted and MMA became legal.
"It was hard for my dad to swallow — he had the idea, but he wasn't one to talk about it," Viola Jr. says. "It is a sad thing it happened, so I took it upon myself to tell the story. I don't want history to be lost. Pittsburgh could be losing an important part of its history."
That legacy is being preserved in an exhibit at the Senator John Heinz History Center in the Strip District. The film came into being after producers from MinusL Productions in New York City saw the history center exhibit. They teamed up with an Academy Award-winning team, including Morgan Spurlock ("Super Size Me"), to produce the film and brokered a deal with Showtime to broadcast, Viola Jr. says.
"It is great to meet the people who are a part of this, and for them to see it come to fruition," says Anne Madarasz, director of the Western Pennsylvania Sports Museum and chief historian for the history center. "They kept so many pieces of memorabilia from tickets to uniforms to photographs to posters that it has made for an amazing exhibition. Their story has merit, and it's credible, and it needs to be told. It's a 'wow' kind of moment for people who see it, and with the film coming out, it will create more attention."
She says now MMA is a big-time sports business, but when Viola Sr. and Caliguiri started they had hoped to promote the event and grow it, but then the state stepped in.
"There were things that happened that were out of their control," Madarasz says. "There are a lot of different factors. The sport is huge on TV — which changes the landscape of a sport — taking it from a neighborhood and community sport to an across-the-world sport."
The documentary is the combination of a lot of the original fighters and guys who took a chance to enter the ring, Viola Jr. says. They came from all walks of life. There are re-enactment scenes by professional actors. The timing is perfect for this, says Viola Jr., because it's coming off the recent fight between Floyd Mayweather and Conor McGregor in Las Vegas which created a lot of interest. There is an Ultimate Fighting Championship on Sept. 16 at PPG Paints Arena in Pittsburgh, where top middleweight contender Luke Rockhold faces David Branch.
"Contrary to popular belief, the sport of MMA didn't begin with the UFC in 1993. It was born in Pittsburgh between 1979-83. They were the pioneers," says Viola Jr., who also is producer of the Kumite Classic the mecca for martial arts in Pittsburgh since 1999.
Details: godfathersofmma.com
JoAnne Klimovich Harrop is a Tribune-Review staff writer. Reach her at 724-853-5062 or jharrop@tribweb.com or via Twitter @Jharrop_Trib.
READ MORE:
Showtime's 'Tough Guys' documentary explores MMA's early roots in 1980s Pittsburgh