Q: Who invented MMA? 
Copyright © 2013 By Bill Viola Jr.  Pittsburgh MMA Inc. CV Productions Inc. Who Invented MMA?  The answer is not so simple.  As for who invented mixed martial arts as a sport… we have the answer and it might surprise you.
All rights reserved. 
No part of this publication may be reproduced, distributed, or transmitted in any form or by any means, including photocopying, recording, or other electronic or mechanical methods, without the prior written permission of the publisher, except in the case of brief quotations embodied in critical reviews and certain other noncommercial uses permitted by copyright law. For permission requests, write to the publisher, addressed "Attention: Permissions Coordinator," bill@kumiteclassic.com 
Hand to hand combat has roots in prehistoric times, influencing every culture since the dawn of mankind. From ancient mosaic sculptures discovered in Sumeria to hieroglyphic inscriptions revealed in Egypt, early evidence suggests that some type of formalized fighting system has always existed.  Be it a "fight" or "flight" response from the threat of imminent danger, survival is a universal instinct of humanity.  The public's obsession with barbaric "life or death" contests reminiscent of the Roman Gladiators affirms an innate human fascination with combative sports, especially as entertainment.  While the violent spectacles of the Coliseum are no longer apropos, contemporary mixed martial artists are celebrated prizefighters, heralded as modern day warriors.
Martial arts or the "Arts of Mars" in Latin is derived from the Roman god of war. Its military connotation, "kill or be killed," is a philosophy that resonates among thousands of armed and unarmed methods of self-defense; many steeped in tradition and influenced by cultural, religious, or ethnic backgrounds.  Today, "martial art" has become a catch-all, almost generic term that universally and collectively describes combat systems from around the world dating back to antiquity. What is and what isn't technically a martial art is truly a subjective topic, a debate reserved for another day.
The origins of martial arts in general are shrouded in mystery and legend, more often than not based on hyperbole, stories passed down from generation to generation. Entwined deep within Greek mythology, Pankration (literally meaning "all powers") was introduced to the Ancient Olympic Games in 648 B.C., a sport said to have been created in the spirit of Heracles and Theseus.  Scholars regard this hybrid of Hellenic wrestling and boxing to be one of the earliest versions of mixed martial arts.  The competitions garnered national fanfare while imposing very few rules; death unfortunately was considered an occupational hazard.
Many experts credit the conquests of Alexander the Great as a pervasive influence on primitive Martial Arts.  His army inadvertently spread the fundamentals of Pankration throughout the world, including India. Popular folklore glorifies an Indian Monk named Bodhidharma, a journeyman who traveled to China establishing Zen Buddhism in the 6th Century A.D.  Many believe the training regimen he taught the Shaolin Monks later spread and impacted the development of traditional martial arts around the world.
Upon the emergence of the 20th century, Vale Tudo (Portuguese meaning "everything allowed") matches throughout Brazil left a modern footprint on MMA.  The scene cultivated adaptations of judo that emphasized ground fighting; namely the creation of Brazilian jiu-jitsu and later Luta Livre (Brazilian free fighting). In the Pacific Rim, Eastern and Western styles clashed head-to-head in mixed-fights known as Merikan (Japanese slang for American) while no-holds-barred fisticuffs were a regular feature at large music halls throughout Europe.  England operated on the cutting edge of an MMA ideology in the form of Bartitsu, while France had long claimed home to an ancient mixture of wrestling and striking known as Brancaille.  The list of early mixed martial arts was as extensive as it was widespread, touching both hemispheres. Each geographic region had its favorite, and with it the pride of its people. Whether it's narcissism or just intrinsic curiosity, challenges that prove superiority have always defined the human race and continue to do so today.
Sensei is probably the most recognizable term in all of martial arts.  The Japanese to English translation literally means, "Person born before another," simply said one with experience; a teacher. The arts themselves have followed a similar path, advancing slowly over time, individually influenced by those who came before; soldiers, warriors, students, masters and visionaries. Millennia later we see the fruits of their labor; an offspring of countless forms of combat (karate, kung fu, muay thai, etc.).   Regardless what styles or theories you embrace, mixed martial arts is obviously not the handiwork of one person, group, or culture; it has evolved over thousands of years and continues to evolve today.
Who invented the "Sport" of Mixed Martial Arts (MMA) in the United States?  Answer:  Bill Viola and Frank Caliguri –1979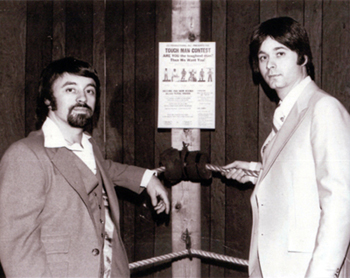 Contrary to popular belief, the UFC was not the first organization to promote the sport of mixed martial arts in 1993.  The development of mainstream MMA as an organized and structured "sport" in the United States of America, is credited to CV Productions Inc., the oldest MMA company in America.  Founded by Frank Caliguri and Bill Viola in 1979, the duo packaged and promoted legal mixed martial arts until it was banned by the Pennsylvania legislature in 1983.
Mixed Martial Madness:  The Birth of an American Sport 
Long before the Octagon was in vogue or Royce Gracie made his pay-per-view debut; decades before the UFC became a household brand and while the likes of Dana White were still in elementary school; two martial arts entrepreneurs pursued a dream that would change the sporting world forever. Bill Viola and Frank Caliguri, martial artists from Pittsburgh, set out to prove once and for all who the "Toughest Man on the planet" was by inventing a radical new "sport." Groundbreaking—sophisticated—progressive; their competition transformed the barbaric spectacles of an earlier era into a modern franchise more akin to the NFL than the Roman Coliseum. It was the Tough Guy Contest, The Battle of the Brawlers.
CV [Caliguri and Viola] Productions created the blueprint for a multi-billion dollar business in 1979 by launching the first mixed martial arts league in United States history only to ignite a bitter turf war with a jealous boxing community over money, power and respect.  Mixed Martial Madness reveals a clandestine plot that subverted a martial arts revolution that was poised to challenge boxing for preeminence as the king of combat sports.
The rise and fall of the first Mixed Martial Arts competition in the United States is nothing less than a spectacular David-and Goliath story populated by a colorful cast of characters who bring the drama of MMA to life.  This was reality fighting, not an overhyped mixed "challenge." Professional athletes, barroom brawlers, collegiate wrestlers, self-proclaimed bad asses, and aspiring "Rockys" all went toe-to-toe in what was the first legal "anything goes" competition in America.
The testosterone-laced rollercoaster ride was ultimately buried by back alley politics and special interests in an effort to protect the "sweet science."  In 1983, with the stench of corruption still in the air, the Pennsylvania legislature banned the new sport en route to setting the first legal precedent for MMA—ever.
Outlawed and blacklisted by the "Good ol' boys," Mixed Martial Arts would sit idle until an upstart UFC finally emerged in 1993. Unfortunately, their "No Holds Barred" format was light-years behind CV Productions in terms of rules, regulations and safety precautions.  It would take nearly thirty years of "catching up" for MMA to come full circle and gain mainstream acceptance.  Mixed Martial Madness is the untold story of the men who changed the game and a sport that was born ahead of its time.
If you are a member of the media and would like to read an advance copy of the book, please contact bill@pittsburghmma.com   
who invented mma in America?  http://www.mmahistory.org/who-invented-mma
[schema type="review" url="www.pittsburghmma.com" name="Pittsburgh MMA" description="Who invented MMA?" rev_name="mixed martial arts" rev_body="Great explanation of the history of MMA in America" author="Bill Viola" pubdate="2013-12-10″ user_review="5″ min_review="1″ max_review="5″ ]