I recently had the pleasure to sit down with John R. "Jack" McGinley Jr. [Barney McGinley's Grandson].  Below is an excerpt from the upcoming book "Mixed Martial Madness"
*Photos courtesy of Jack McGinley & Art Rooney Jr.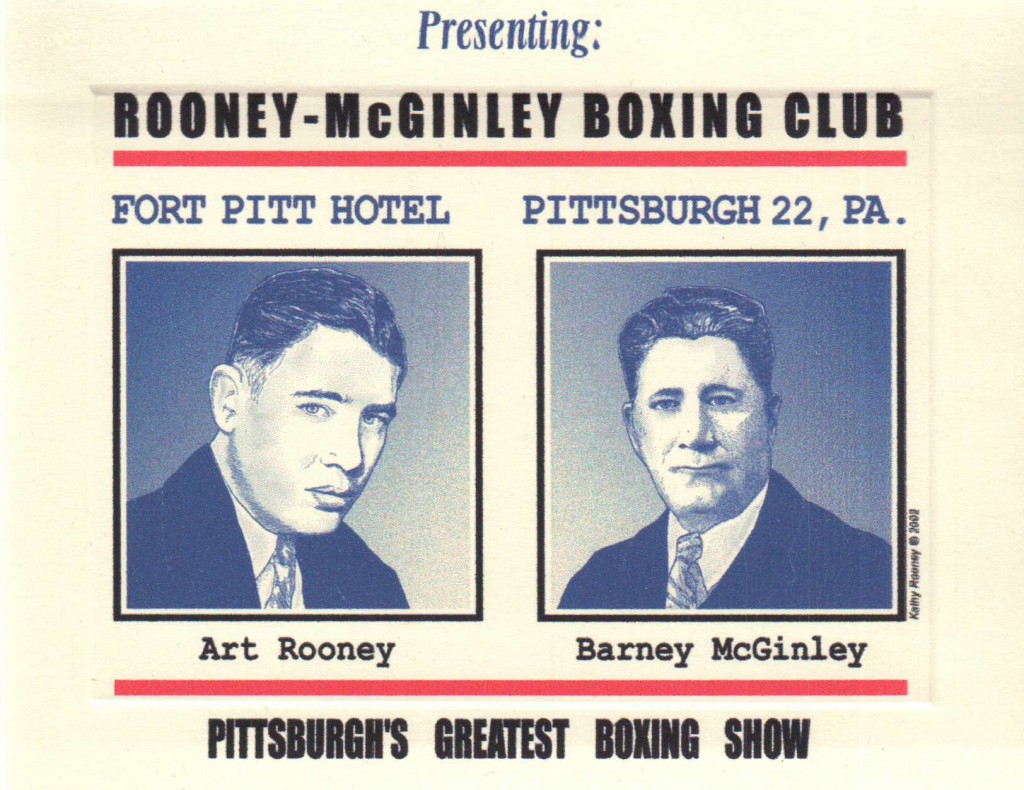 During the 1930s & 40s the famed Rooney-McGinley Boxing Club put Pittsburgh prizefighting on the map.  Rooney, as in Art Rooney, the founder of the Pittsburgh Steelers, partnered with Barney McGinley to promote gladiators on the gridiron and the canvas.  John R. "Jack" McGinley Jr. [Barney's Grandson] jokes about the Fort Pitt Hotel headquarters, "They had a desk. One drawer with football tickets, the other boxing tickets."  The gym became "the" place to train for champions like the "Pittsburgh Kid" Billy Conn.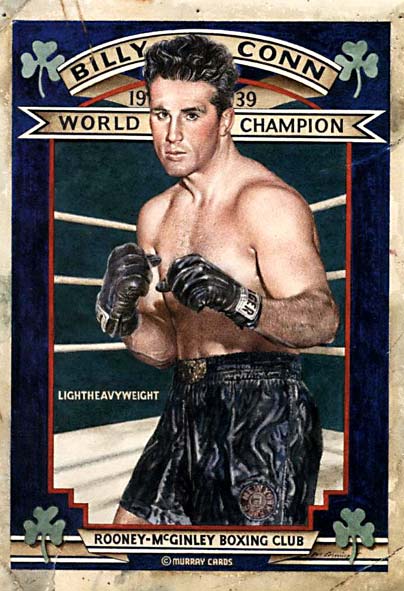 Billy was regarded as one of the greatest pound-for-pound fighters of all time; a trifecta: handsome, athletic and charismatic. "Conn was a family friend, so much so that Art [Rooney Sr.] even stood as Godfather for [Tim Conn] one of his kids," says McGinley Jr. The public perception of boxers in the 1940s was on an entirely other level.  When asked if Billy Conn was the equivalent of Hines Ward [Pittsburgh Steeler Star] in terms of celebrity status.  McGinley quipped, "No he was more like the Michael Jordan."  Conn was a beloved national hero, Hollywood celebrity, and household name.  It was a testimony not only to boxings popularity, but the clout associated with its hierarchy.  The night Billy Conn "won and lost" the heavyweight title from Joe Louis in New York, over 24,000 fans sat idle at Forbes Field in Pittsburgh to watch the Pirates play baseball.  The umpire suspended the game so the anxious crowd could listen to the fight over the P.A. system.  At that moment Pittsburgh and most of America stopped. Boxing gripped the nation.
In 1951 Barney's son Jack McGinley Sr. promoted the first major heavyweight championship in the city's history, a match between Jersey Joe Walcott and Ezzard Charles at Forbes Field. The bout was Ring Magazine's "Fight of the Year," attracting a virtual who's who of boxing legends; Billy Conn, Fritzie Zivic, Teddy Yarosz, Primo Carnera, Joe Louis, and Rocky Marciano.  My grandfather William Viola also sat ringside that day, rubbing elbows with the greats.  McGinley Jr. recounts "The buzz was everywhere… It was like the first Superbowl." (Jersey Joe would later fight mixed-fights with pro-wresting stars "Nature By" Buddy Rogers and Lou Thesz.  Most historians concede that these were likely "worked" fights, a frequent way for ex boxing champions past their prime to earn a paycheck).
Jack McGinley Sr. was quoted as saying, "Television killed boxing here." By the early 1950s fans chose to stay home and watch fights on tv instead of attending them live. Although boxing may have been Barney McGinley's first love, the writing was on the wall.  He and Rooney turned their attention to football and never looked back; a difficult decision, but ultimately the right call.  Today, the Steelers franchise is a billion dollar entity while boxing never regained the glitz and glamour of its heyday.  As to the future of Pittsburgh boxing, McGinley sadly admits, "Those days are over…I can't name four [top boxers] today… I think mixed martial arts has a chance."